The 2024 TEDxVanderbiltUniversity applications are now open!
The Office of Experiential Learning and Immersion Vanderbilt is proud to announce that speaker applications are now open for the 2024 TEDxVanderbiltUniversity event occurring on April 21, 2024! If you are interested in applying, please follow this link to the application! We're excited to hear your "idea worth spreading!"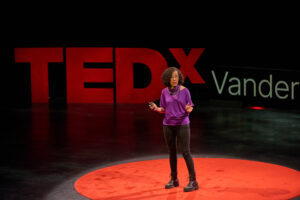 What is TEDx?
In the spirit of ideas worth spreading, TED has created a program called TEDx. TEDx is a program of local, self-organized events that bring people together to share a TED-like experience. Our event is called TEDxVanderbiltUniversity, where x = independently organized TED event.
At our TEDxVanderbiltUniversity event, TED Talks video and live speakers will combine to spark deep discussion and connection in a small group. The TED Conference provides general guidance for the TEDx program, but individual TEDx events, including ours, are self-organized.
Interested in speaking at our next TEDxVanderbiltUniversity event?
We look forward to hearing your "ideas worth spreading". If you need a sounding board to see if your ideas could be developed into a TEDxVandy talk, please reach out using the email below and we'd love to chat with you.
Check out our NEW Speaker Information Guide! It will answer many of your questions about the application, audition, and development process. Please don't hesitate to reach out to Charles Acheson, charles.acheson@vanderbilt.edu, if you want to know more about this opportunity.